The Southern Power Corporation (EVN SPC) is implementing the construction of an operation monitoring system at 110kV stations on the principle of sharing existing information from the Southern Load Dispatch Center (A2). The purpose of equipping a surveillance system is to effectively exploit invested equipment to connect with A2's SCADA / EMS system, and at the same time equip staff with background knowledge and practical experience. techniques of EVN SPC to prepare for the operation of the SCADA system and EVN SPC's unmanned 110kV station scheduled for 2014.
Currently, EVN SPC is managing and operating 150 110kV stations in 21 provinces, of which 117 stations have RTU, 33 stations have no RTU. Among 117 stations with RTU, it is divided into 2 groups as follows:
Group 1: Including 61 stations equipped with RTU560 - ABB with HMI license (Human machine interface - human and machine communication) integrated in flashcard, under the project "Improving the capacity of dispatching centers (also called project ADB projects in phases 1 and 2).
Group 2: The remaining stations, RTU are equipped in the new construction investment projects and previous A2 projects. These RTUs do not have HMI license and include many types such as: RTU Microsol with only 1 communication port (belonging to A2 project before 2000), RTU C264-AREVA, RTU Siemens.
To build an operational monitoring system at 110kV station, it is possible to use the plan of using 3rd party HMI software to get the signals that need to be displayed on the monitor computer screen. This plan is high-cost, not fully exploiting the invested functions such as HMI license integrated in flashcard of 61 RTU 560 ABB in group 1.
Therefore, EVN SPC has proposed to the Group the plan to exploit HMI licenses that have been equipped to build the operation monitoring system at 110kV stations. This option will connect the computer with the RTU via the SCADA LAN Switch at the station, using the IEC60870-5-104 or TCP / IP protocol. The computer will display HMI through Web browser (HMI file is created and saved in Flash card of RTU-560 ABB), connected as shown in figure 1 below.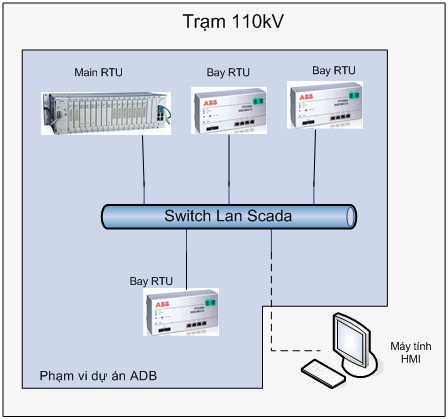 Connection diagram at 110kV station.
The main jobs are performed as follows:
Equipped with 1 computer with minimum configuration and 2 monitors of 21 inch per station.
Connect and configure RTU560 / ABB.
Set up a 1-thread diagram, alarm page (annunciator), show event pages, alarms and disclosure details page.
Mapping 1-thread diagram, alarm page (annunciator) with RTU signal to display alarm, display device status, display measurement data, perform control ...
Install software on computer, test HMI calibration against current status at the station.
Currently, EVN SPC assigns the task to the Southern High Voltage Grid Company to implement the project, which is expected to be completed and put into operation by the end of March 2013.
After being put into operation, the HMI system will make the most of invested SCADA equipment and monitor the status of devices, alarms, real-time measurement data and control magnetic devices. HMI calculator. In addition, it will help EVN SPC's staff improve their skills in the operation and maintenance of SCADA systems so they can master the technology and operate the SCADA system and the unmanned 110kV transformer station that EVN SPC is preparing. invest./.