Description
Daikin Ceiling Cassette FDMNQ48MV1 / RNQ48MY1 (5.5 HP)
The indoor unit can be installed concealed from the ceiling and cold air can be supplied everywhere through the duct.
The duct system allows for the most efficient placement of air outlets, suitable for the layout in the room. The rear standard return air inlet makes duct connection simpler.
Smooth operation
Adjustable fan speed: High / Low
Drain hose connection can be done inside the unit. The refrigerant pipe and the drain hose have the same outlet.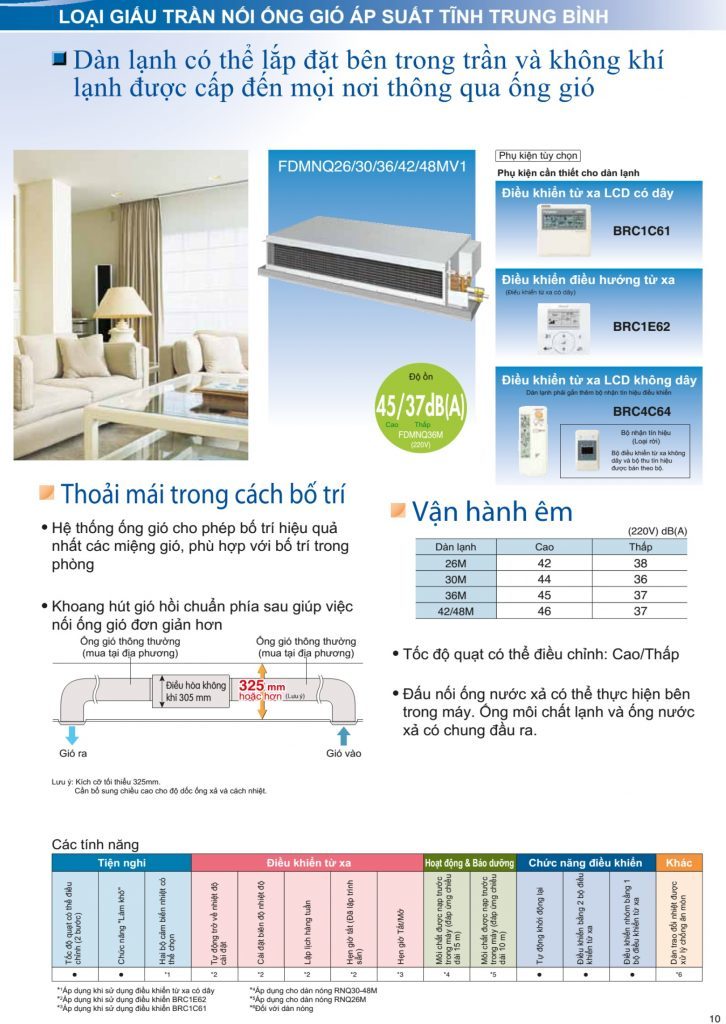 Daikin ceiling hidden air conditioner FDMNQ48MV1 / RNQ48MY1 - High durability
To enhance durability by improving resistance to salt corrosion and air pollution, Daikin ceiling-mounted air conditioner heat exchanger FDMNQ48MV1 / RNQ48MY1 is treated against corrosion (pretreated with acryl) is used for outdoor heat exchangers.
Daikin Ceiling Cassette FDMNQ48MV1 / RNQ48MY1 - Compact design and quiet operation
Daikin ceiling-mounted air conditioning units FDMNQ48MV1 / RNQ48MY1 use a turbine fan with an aerodynamic design diffuser. Wind resistance has been reduced by coordinating the fan blade and diffuser to regulate the air flow inside the device. The turbine fan has a diffuser that runs smoothly and is compactly designed.
Daikin Ceiling Concealed Refrigerator FDMNQ48MV1 / RNQ48MY1 - Easy installation and maintenance
The outer mask of Daikin ceiling concealed air conditioner FDMNQ48MV1 / RNQ48MY1 connected pipe to the front part, right side and back side can be removed for convenient pipe construction after installation.