Daikin Ceiling Cassette FCF140CVM / RZF140CYM (6.0 HP, Gas R32, Inverter, 3 Phase)
Máy lạnh âm trần Daikin FCF140CVM / RZF140CYM (6.0 HP, Gas R32, Inverter, 3 Pha) công suất 6 ngựa, dòng 3 pha được sử dụng cho việc truyền tải, sản xuất công nghiệp sử dụng thiết bị điện có công suất lớn để giải quyết vấn đề tổn hao điện năng: gồm 1 dàn nóng và 1 dàn lạnh model mới nhất được thiết kế đẹp cùng các chức năng tiện ích và tính năng hiện đại, hoạt động êm, tiết kiệm kiệm.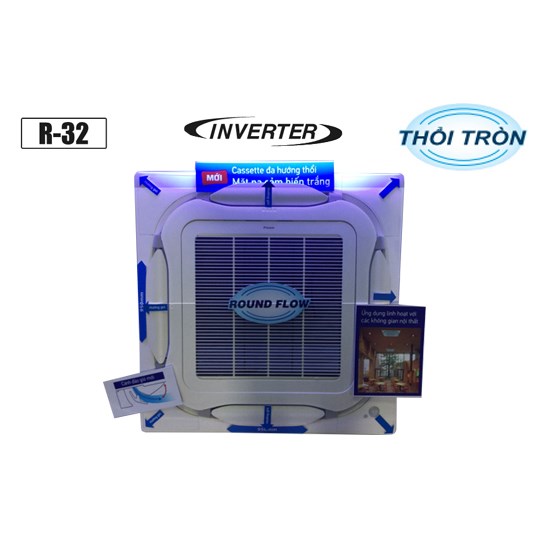 This air-conditioner line is suitable for installation for projects with large area, ceiling with loupe such as: commercial center, hall room, wedding restaurant, villa, luxury apartment building.
Main features of Daikin Ceiling Cassette Inverter FCF140CVM 6.0HP
1-way cooling, dehumidifying
Using inverter control technology to save electricity and operate smoothly
Beautiful design, multi-directional blowing panel
Control by Remode or by wall panel
On / off timer function
Function air purification, antibacterial, deodorizing
Use the latest generation R32 refrigerant
Structural design is easy to install and maintain
The outdoor unit is designed with a quiet compressor, heat exchanger with high corrosion resistance.
Daikin Ceiling Cassette FCF140CVM is imported complete unit from Thailand
We supply and install ceiling-mounted air-conditioning for completed or under-construction projects such as: hotels restaurants, wedding centers, shopping malls, villas, luxury apartments ... With good prices with care and maintenance regime in accordance with the manufacturer's regulations.
Product prices and purchases please see the website: https://dienmaygiatot.com/p/may-lanh-tran-daikin-fcf140cvm-rzf140cym-6-0-hp-gas-r32-inverter-3-pha/
For more information, please contact: ELECTRICAL APPLIANCES GOOD PRICE
Best regards,