1. CAUSES OF INFRASTRUCTURE VENTILATION NEEDED:
Basement space is a place with the main purpose of parking, collecting garbage, ... so generating a large amount of toxic gas such as: NO, CO2, SO2… That greatly affects the life and work of residents and employees working in areas in the basement.
Ventilation in unexpected incidents such as fires, ...
=> With the above requirement, the need to move toxic substances, heat, and moisture outside to bring fresh air in to avoid affecting the living and working environment of human is extremely urgent.
2. INFRASTRUCTURE VENTILATION METHOD:
There are currently two ventilation options for the basement:
Ventilation to wind mains: The system supplies fresh air and sucks exhaust air through wind pipes and fans. Usually designed for high altitude basements, with space for piping. This alternative distributes the cashew air flow throughout the basement through the air intake system.
Ventilation without wind pipes: Ventilation by JetVent, currently there are many construction works. Large basements with large air flow and limited piping space make the JetVent a great option.
Each conditioning option has its own advantages and disadvantages, but it is easy to see that the duct ventilation will distribute air flow to areas of the basement rather than venting with JetVent.
3. JETVENT VENTILATION METHOD:
Currently, there are many projects using this option, the advantages of this option overcome and meet the needs of the wind pipeline method. With the two-speed JetFan fan, this option is truly a great way to ventilate in the event of a fire, which has been tested.
Operation principle: JetVent fans operate on the principles of vertical as well as horizontal ventilation. The fan generates a jet with high air pressure, which moves large amounts of air by swirling the air around the fan. The amount of air is entrained by the fan as it is drawn and excreted in the front by the fan, creating a strong airflow that drags along the surrounding air regions. These characteristics are directly related to fan thrust, measured in Newtons (N). This repulsion is formed through the relationship between the volume flow, velocity, and density of the air. So the thrust the fan generates will be proportional to the fan's flow and speed.
The high JetVent ventilation system highlights its advantages in compactness, less ceiling space occupation, effective overall ventilation and a quick construction and installation process.
4. JETFAN FAN CONTROL TYPES:
Two fan speed type control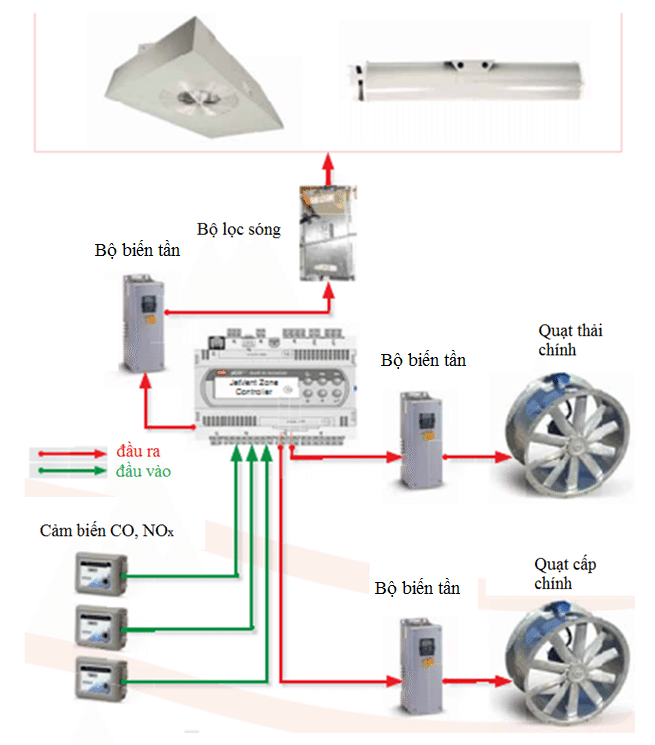 Continuous speed type control
5. CONTACT INFORMATION
For more information, please contact: SAVA M&E Joint Stock Company (SAVA M&E)