Heat recovery ventilation equipment - Lossnay is a device to improve air quality, used to save energy between the cold air discharged in the room and fresh air (OA) from outside to exchange with each other. heat wheel. Using a heat recovery device will save part of the excess heat from the exhaust room. The initial cost for the project is increased but energy is saved during the operation.
The heat recovery effect can only be achieved when using Lossnay
The secret is that "Lossnay core" has a flat wing structure that helps the flow intersect to effectively recover heat. A diaphragm made of specially treated paper separates the supply and exhaust air completely, ensuring only fresh air is introduced into the indoor environment. The good heat transfer and moisture exchange ability of this special paper ensure that the exchange (temperature and humidity) is more efficient when the fresh wind and waste wind pass through the Lossnay core.
Lossnay technology: Two-way ventilation and complete energy recovery

Better energy conservation thanks to a completely improved heat exchange efficiency
The new Hyper Eco membrane developed by Mitsubishi Electric offers the industry's best heat exchange efficiency. Energy conservation has been improved not only by reducing the load on the air conditioning system through ventilation but also by exchanging humidity.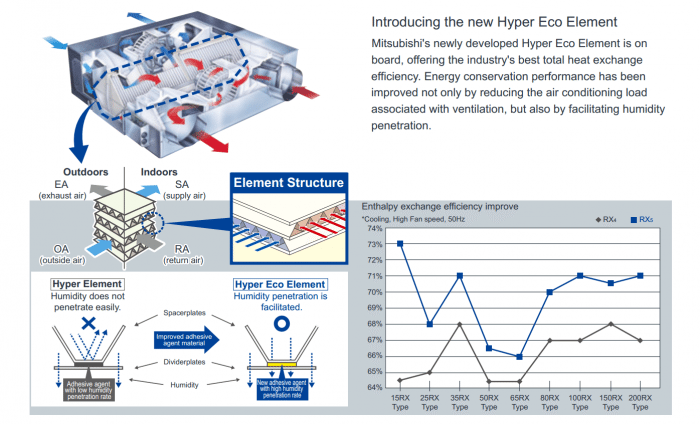 Why is LOSSNAY really necessary?
● Without ventilation….
Lack of ventilation will make people susceptible to illness due to dirty indoor air including CO2, Dust, Bacteria.
● If only windows were opened….
Opening windows helps to remove dust, dirty air BUT it wastes electricity in the air conditioner.
● We therefore recommend using LOSSNAY for rooms with air conditioning.
LOSSNAY helps both Ventilation and Energy Efficiency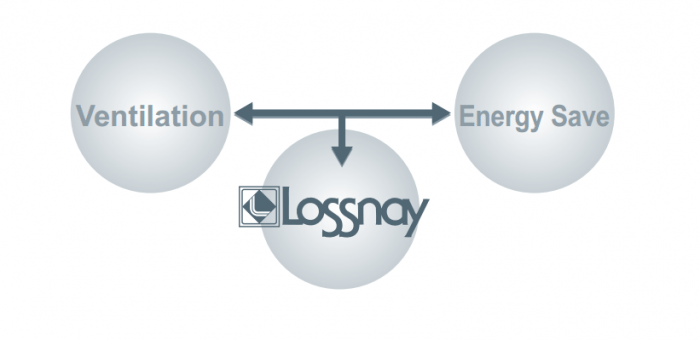 What are the benefits that Lossnay brings?
Clean air supply, waste air in two directions (OA-> SA and RA-> EA)
• Recover energy with LOSSNAY Core
• Free ventilation function by bypass valve
• MULTI-FUNCTION VENTILATION MODE: for diversified ventilation requirements (Priority on air supply, simultaneous air supply / release, Priority in air release)
The system is equipped with Four levels of wind, for more precise control of energy conservation. In addition to the usual Ultra High, High, and Low modes, there's also an extra-low mode that allows for wider and more flexible airflow amplitude settings in installation environments, helping to conserve energy. better. Using the simple timer function, the device switches to ultra-low operation when the stop button is activated and becomes a 24 / 24h energy-conserving ventilation device.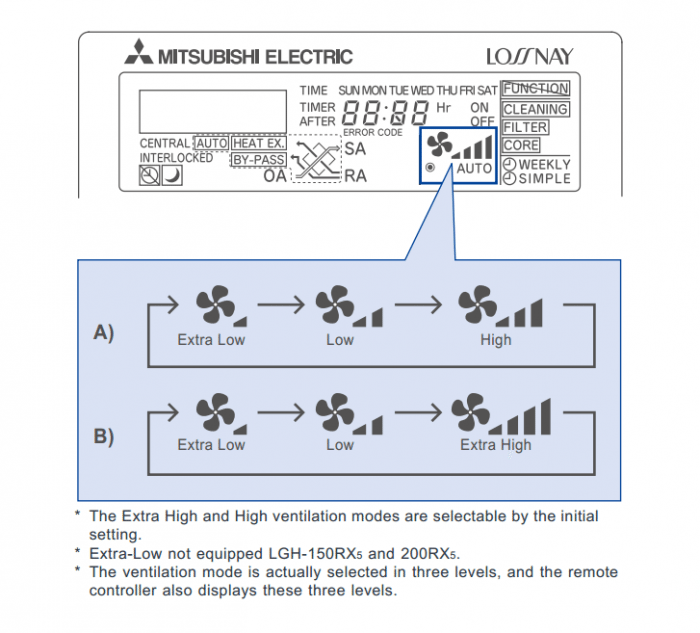 The airflow rate can be set hourly (up to 8 times) and weekly. The user can preset predictive airflow rates so that LOSSNAY can automatically operate at the required air speed for a specified time, saving energy consumption while maintaining indoor air quality. Besides, when the weekly timer is set, the system will automatically turn on / off.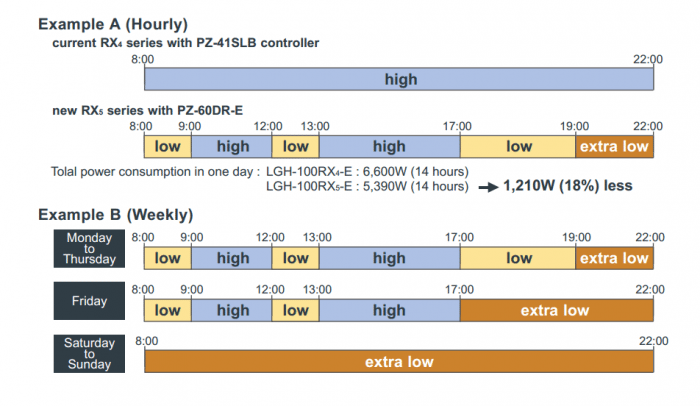 In addition to the automatic airflow control valve on / off function, it is now possible to open / close control via an external device, providing a "By-pass" ventilation system suitable for the installation environment. . PAC-SA88HA-E controller (optional) can be connected to CN16 pin (ventilation mode selection) When SW1 is "On", the ventilation mode of LOSSNAY is changed to By-pass ventilation mode. does not matter which mode the remote is being set.
New type remote control PZ-60DR-E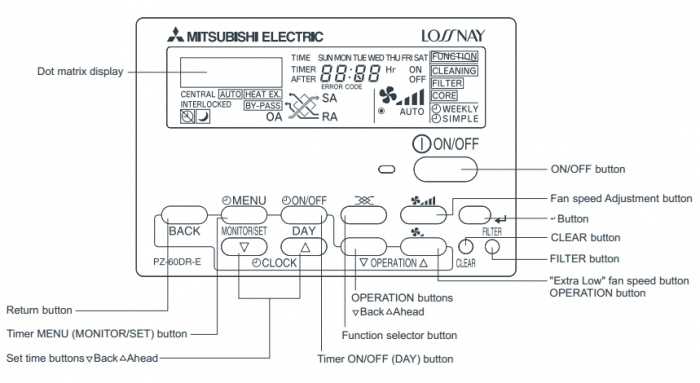 A new remote is available for the RX5 series. In addition to enhancing the device's energy conservation, the remote has many new functions that help conserve additional energy. The introduction of the remote control conforms to Mitsubishi Electric's general design standards for air conditioning interfaces. Functions installed via Dip-Switch on LOSSNAY can now be installed as needed using a new generation remote. This eliminates the need to penetrate the ceiling cavity to change settings and operations. At the same time, the new LCD screen will provide more information, making it easier to check maintenance instructions, display operating status, and required comments when configuring settings.
Lossnay product parameters of Mitsubishi Electric: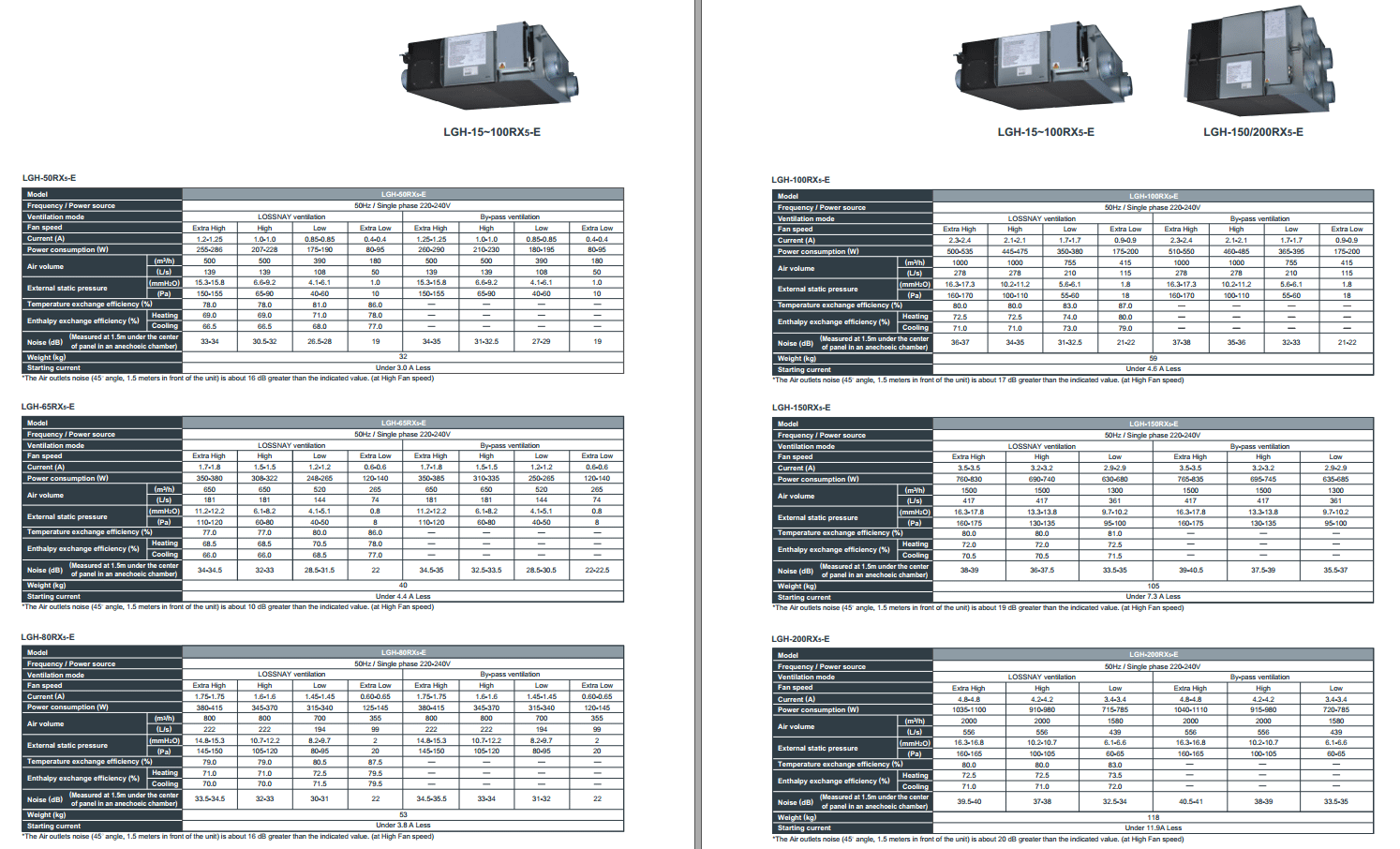 If you are in need of using central air conditioning system VRF, please contact immediately  SAVA M&E Joint Stock Company (SAVA M&E) for free consultation and design of central air conditioning system VRF.
For more information, please contact: SAVA M&E Joint Stock Company (SAVA M&E)