TP. HCM City, January 7, 2016 - Panasonic Vietnam Corporation officially launched the latest generation of VRF central air-conditioning system: FSV-EX (Eco Extreme). The official launch ceremony was held at InterContinental Asiana Saigon Hotel, with an introduction using state-of-the-art 3D interactive projection technology to illustrate the outstanding features and benefits of the system. .

FSV-EX is a central air conditioning system VRF (Variable Refrigerant Flow) capable of adjusting refrigerant flow according to current frequency, marking a breakthrough in energy saving. The system has a high EER (Energy Efficiency Ratio) index for the entire capacity range of the outdoor unit but remains at a partial load, in line with the actual usage requirements of the customer. The FSV-EX is strong with a quick cooling time, operates in extreme weather conditions, and is designed to perform well at outdoor temperatures up to 52 ° C.
The outstanding improvements of the FSV-EX system provide significant energy savings:
• Dual inverter compressor system with large capacity
The system is designed with many inverter compressors, which can be controlled independently, providing high flexibility in operation.
• Larger heat exchanger area with three-surface design
The heat exchanger design has been improved to maximize the contact area. Compared with existing products with a two-sided design, the new heat exchanger makes the most of the larger contact space and area, helping to improve heat exchange efficiency.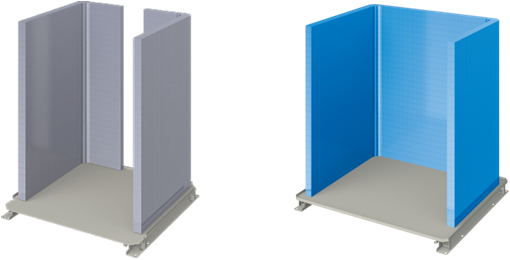 • Fan cage with new bend design for better aerodynamic efficiency
The new curved profile of the fan cage with integrated base and top ensures that cooling air is circulated easily and quickly. The new design offers a larger air volume with constant noise and lower fan power for the same volume of heat exchanged air.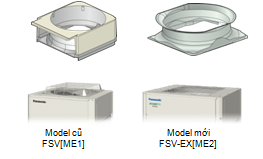 • Outstanding oil return management
Unlike conventional VRF systems with the function of recovering oil from indoor units will consume a certain amount of energy, the FSV-EX system has a 3-step oil return design that minimizes the required oil return frequency. thereby cutting energy costs and maintaining stable operations.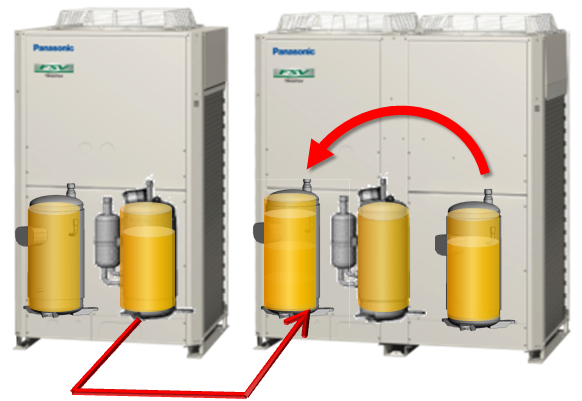 With these innovations, the new VRF FSV-EX series meets the diverse needs of customers, while providing reliable, comfortable and healthy solutions for air conditioning worldwide. Mr. Hiroshi Komatsubara, Sales Manager of Panasonic Air Conditioning Company Japan, said: "I want to set out a clear mission and the main goal is to become a company specializing in providing air-conditioning solutions. The atmosphere brings practical benefits to the whole society ".
Recently, Panasonic announced its 2018 sales target for its global air-conditioning products business (ending in March 2019) of 700 billion yen ($ 6 billion). Vietnam is one of the strategic and potential markets to promote business expansion. Compared to 2015, Panasonic predicts that the air conditioner segment for businesses will achieve 151% growth. As a result, the airline will continue to maintain momentum in the business air-conditioning segment and achieve double-digit growth this year.
————–
About Panasonic Corporation
Panasonic Corporation is a world leader in the development and manufacture of electronic technologies and solutions for customers in the residential, residential, automotive, corporate and public equipment sectors. Karma. Since its founding in 1918, the Group has spread globally and now has 469 branches and 94 companies operating around the world, and consolidated net revenue of the Group is 7,715 trillion. Yen for the fiscal year ends on 31 March 2015. Committed to reaching new values through innovation in all areas, the Group strives to create a better life and a better world for customer.
For more information about Panasonic Corporation and brand name please visit the website: http://panasonic.net
About Panasonic Vietnam Corporation
Panasonic Vietnam (PV) is the first 100% foreign-invested company to hold the role of a managing company in Vietnam. As of April 2014, the Panasonic Group of Companies in Vietnam has 7 members, of which there are five manufacturing companies: Panasonic Industrial Devices Vietnam (PIDVN), Panasonic System Networks Vietnam (PSNV), Panasonic Appliances Vietnam. (PAPVN), Panasonic AVC Networks Vietnam (PAVCV) and Panasonic Eco Solutions Vietnam (PESVN), and Panasonic Vietnam Research and Development Center (PRDCV). The group of companies has a total manpower of about 8,500 people. In Vietnam, Panasonic is one of those businesses that pay special attention to social, educational and environmental activities.
For more information about the company and its activities in Vietnam, please visit the website: http://panasonic.com.vn.
Source: Panasonic Vietnam