More and more mid-range and high-end apartments are being built today. One feature is that the investor and the construction unit want to optimize the space, so they do not leave a lot of space for the position of the air-conditioner outdoor unit, normally only 2 air-conditioning units can be placed at most.
Therefore, there is no other way we can use the central air-conditioner for the apartment with 1 outdoor unit for many indoor units. But do not worry, because the price of central air-conditioning for Multi-type apartments is not much higher than that of installing separate air-conditioners, but there are many more advantages such as energy saving, durable operation. , stability,..
In terms of central air-conditioning for the apartment then there are 2 main lines:
Central air conditioning VRV / VRF Mini (such as VRV IV-S of Daikin)
This is the central air conditioning line for large buildings that is scaled down to suit the apartment space, so it has the advantage of a high power saving coefficient, compact size suitable for placing in the apartment and an advantage. The highlight is that the indoor unit is diverse, so it is suitable for many different interior spaces and designs.
With this air-conditioner, you can turn your apartment into a 5-star hotel with the indoor unit hidden in the ceiling and only see the wind blowing out.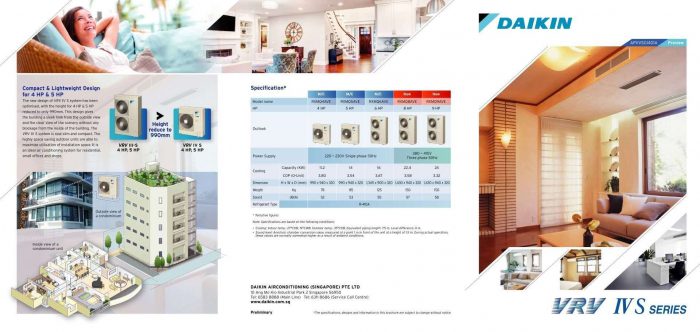 Compact size equal to conventional air-conditioner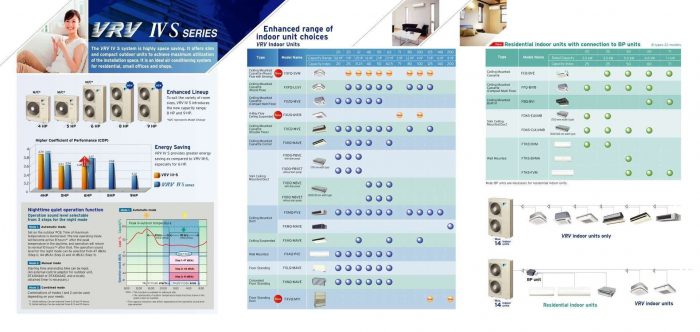 High energy saving coefficient (COP ~ 4.0), Various indoor units
The advantage is that, but the downside is that the cost is quite high, installation is somewhat more difficult because you have to travel the gas pipe, install more wind pipes if you want to hide the air conditioner on the ceiling. Only suitable for apartments with rough delivery or having to remove the ceiling or close the ceiling, because this air conditioner cannot be constructed when the ceiling is finished.
The investment cost for the air-conditioner line is> 150 million VND for an apartment, in which the cost of air-conditioning equipment is> 100 million VND, the construction cost is> 50 million VND.
In short, this VRV / VRF Mini central air conditioner is more suitable for high-end apartments, an area of> 100m2 and the owner wants his house as luxurious as a 5-star hotel 🙂
Multi air conditioner (one outdoor unit for multiple indoor units)
Perhaps this is the air conditioner line most suitable for a single outdoor unit for multiple indoor units. This is also the air conditioner line that investors and design units choose as the common standard for the apartment.
The advantages of this Multi air-conditioner are:
High energy saving coefficient, according to its announcement, Daikin's machine has COP ~ 4.0, Mitsubishi Heavy with COP ~ 4.2. That is higher than the VRV IV-S series as above.
With a gas pipe connection like a normal air conditioner, the outdoor unit has 3-5 pairs of connectors available to the indoor unit, so it can be installed with the existing gas pipe for the apartment without having to spend a new installation.
A big advantage is that the price of this air conditioner line is quite good, it can be said that it is equal to the number of ordinary air-conditioners that you plan to install for your apartment. With a 76 m2 apartment, 3 indoor units, the cost is about 45 million VND.
When choosing an outdoor unit for Multi AC, you should choose a capacity of 50 - 60% of the total indoor unit only, for 2 reasons below:
Coefficient of using all indoor units at the same time is very low, you rarely turn on the air conditioner at the same time for the living room, bedroom, ..
Multi air conditioner has a design that allows running up to 200% capacity of outdoor unit within 15-30 minutes. This is enough to satisfy you in the moment.
This Multi air conditioner is currently selected by many homeowners to install for apartments in Vinhome Central Park, Sala, Lexington, ..
To learn more about this air conditioner line as well as the price you can refer to: https://dienmaygiatot.com/cat/may-lanh/may-lanh-multi/
Or contact Electronics Supermarket at Good Price with the following information:
Website: https://dienmaygiatot.com
Phone: 028 3512 2727, Hotline: 0869 172 168 (Mr. Nhon)
Address: 168/75 D2, Ward 25, Binh Thanh District, Ho Chi Minh City
Best regards,
HVAC Vietnam