The BRC1C62 controller is used to connect to the indoor unit and to control the system. The BRC301B61 controller is to connect to the heat recovery ventilation equipment. The indoor units and heat recovery ventilation equipment must be connected to the controller otherwise it will not work.
Through the controller, we set the modes for the room and for indoor units such as temperature, fan mode, heating mode, turn on the machine, ... with the function keys on the controller.
---
1. BRC1C62 controller
Set the cooling / heating / fan / dehumidification mode using the dial (21). In summer, set the cold mode to the position number (7) when the snowflake icon * appears in winter, when the heating mode is set, the sun icon will appear ☼.
(1) ON / OFF push button: press the button, the engine light (2) turns on, the machine stops the light (2) turns off.
(3) Speed adjustment icon. If cold / heating cannot be switched, this icon appears. Only the cold / heating mode of a group can be switched at the host monitor.
(4), (22) Air direction icons and buttons.
(6), (18) Temperature setting icon and button (16-32 degrees C).
(7), (21) Set icon and button for operation mode. Include:
Fan running mode.
Moisture running mode.
Cold running mode.
Hot running mode.
(8) Toggle timer icon displays.
(14) Timer toggle button.
(15) Timer setting time confirmation button.
(17) The button increases or decreases timer time.
(11), (20) Icons and buttons for fan speed control.
H- High fan mode.
L- Low fan mode.
(12), (19) Icons and push buttons require cleaning of the dust filter. When the icon appears, it is necessary to clean the dust filter after cleaning, press the push button to delete the icon.
---
2. Controller BRC301B61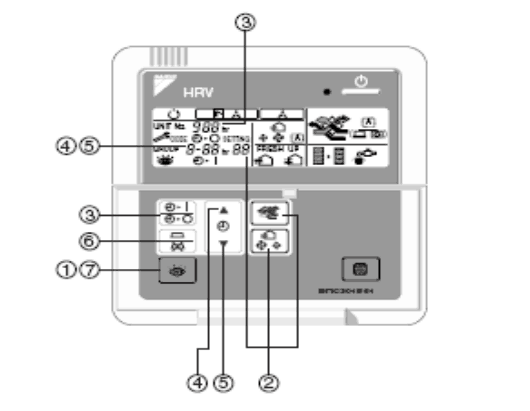 (1), (7) Test button.
(2) Select button, displays the running mode. Select button, shows fan mode.
(3) The button is on, off, and shows the timer. Adjustment button increases or decreases the time.
(4), (5) Increase, decrease and display buttons for time.
(6) Timer confirmation button.
---
3. BRC7E61W controller
(1) Display the active machine.
(2) Working mode icon (running fan, running humidity, automatic mode 25oC, cold mode, heating,…).
(3) Display the set temperature.
(4) Display the timer.
(5) Wind deflector mode icon.
(6) Display fan speed.
(7) Display "test, test run". When the button is pressed here the system mode is displayed.
(8) ON / OFF button for the machine to run and stop.
(9) Fan speed selection button.
(10) Temperature increase button.
(11) Adjusting button increases or decreases the time.
(12) Set button, turn off timer.
(13) Set button, delete timer time.
(14) Air direction button.
(15) Working mode selection button.
(16) Filter cleaning timer button.
(17) Button test run test.