What's new in Daikin VRV A 2020 compared to VRV A first launched in 2018 or compared to VRV IV? This article will introduce you to the new features of VRV A applicable from 2020.
Daikin VRV A 2020 high power central air conditioner saves more energy
The key to saving energy is achieving high performance when operating at low loads. With data obtained from actual operation, Daikin found that the air-conditioning systems operated at a load of 50% or less during its annual uptime around 80%.
This prompted us to develop new technologies to improve energy efficiency when operating at low loads.
Therefore, the new Daikin VRV A series is born to raise the bar for energy efficiency.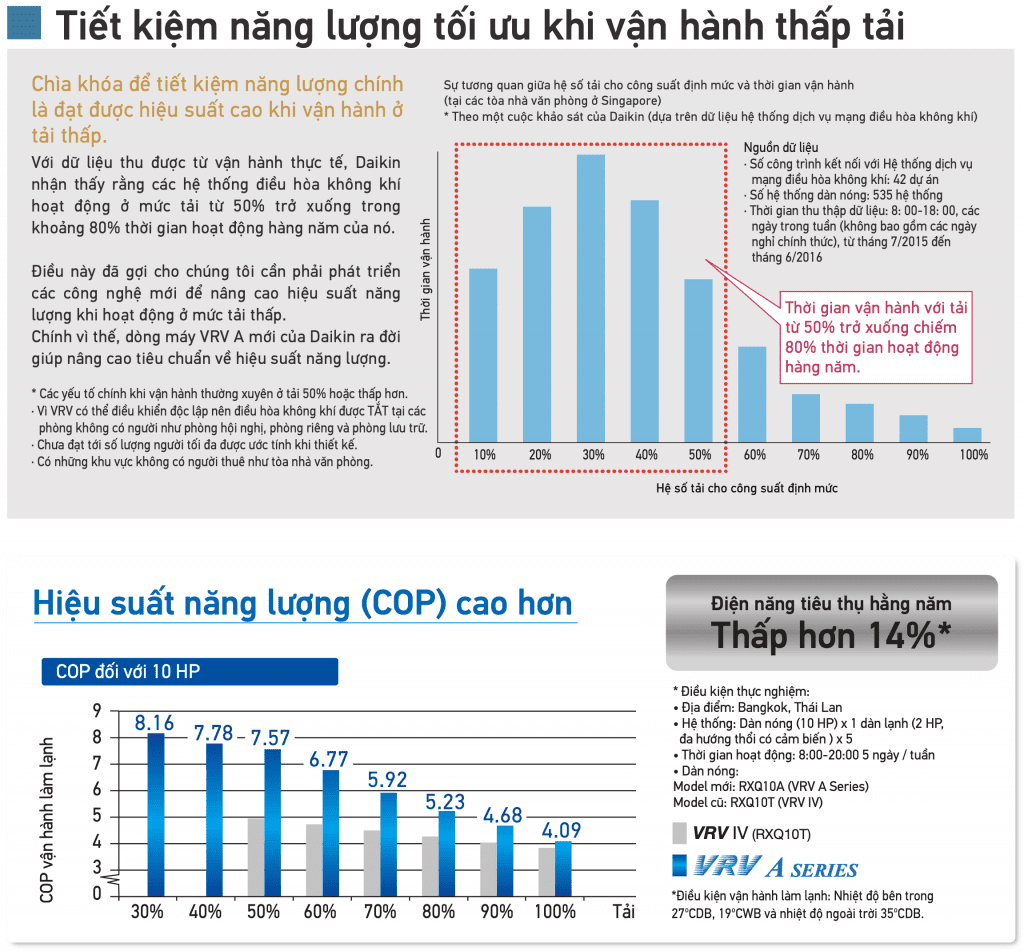 The central conditioning Daikin VRV A 2020 achieves space saving and delivers high efficiency
New scroll compressor
Refrigerant leakage is minimized during low load operation.
The back pressure control mechanism increases efficiency during low load operation.
Advanced oil temperature control
The efficient oil temperature control reduces standby power consumption by up to 82.7% * annually compared to conventional models. The backup energy required to heat the oil, which often consumes significant energy, is minimized when the air conditioning system stops working.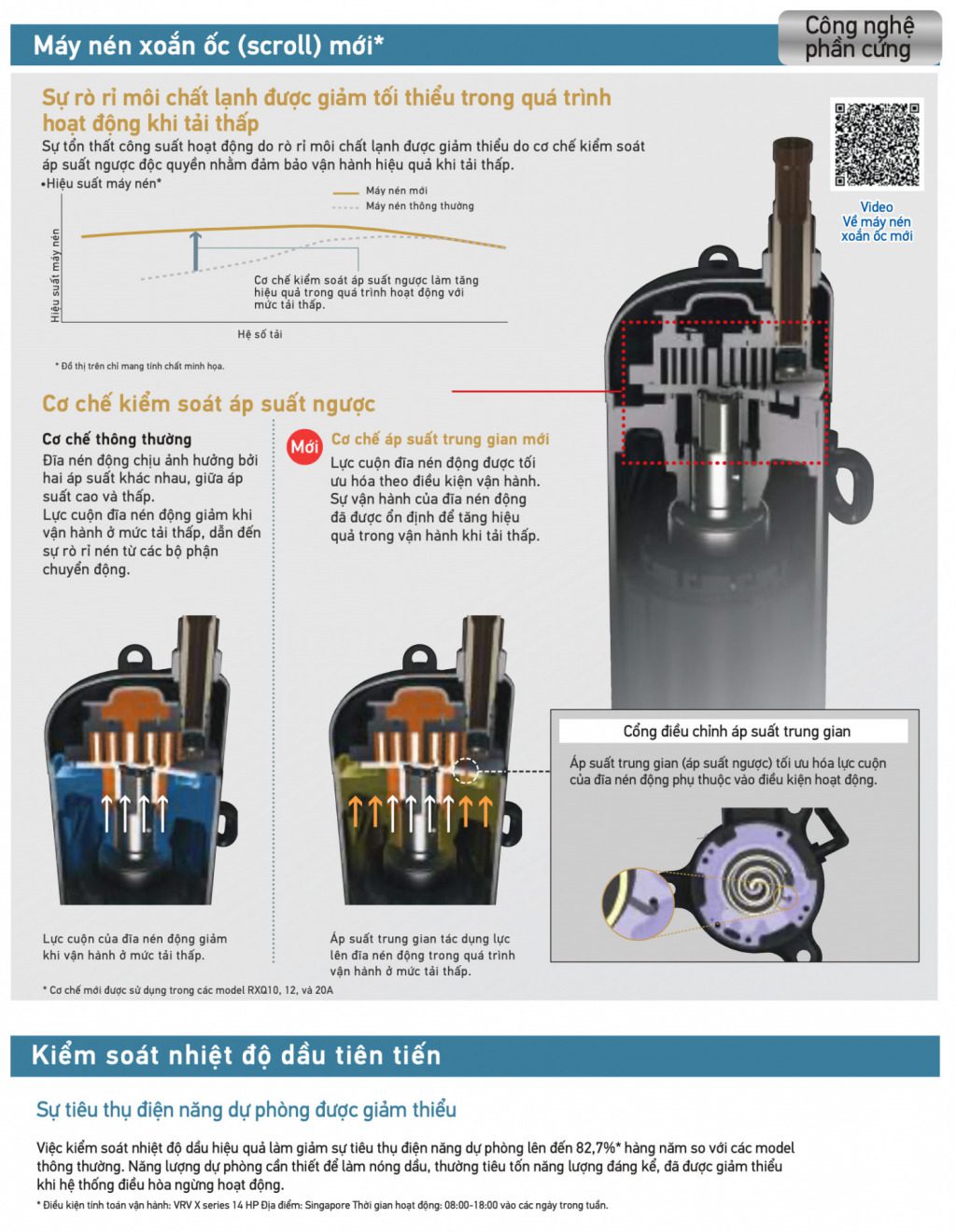 Central air conditioning Daikin VRV A 2020 with refrigerant automatic charging function
Optimize performance
The refrigerant auto-refilling function automatically determines the optimum amount of refrigerant to be loaded. This function helps prevent underloading or energy loss due to excess or shortage refrigerant.
Easy installation and high quality
Refrigerant auto-refilling function automatically refills the appropriate amount of refrigerant and closes the stop valve simply by pressing the button after pre-charge
Simplifying the installation eliminates the refrigerant shortage or excess due to errors in calculation, which results in a higher quality of the installation.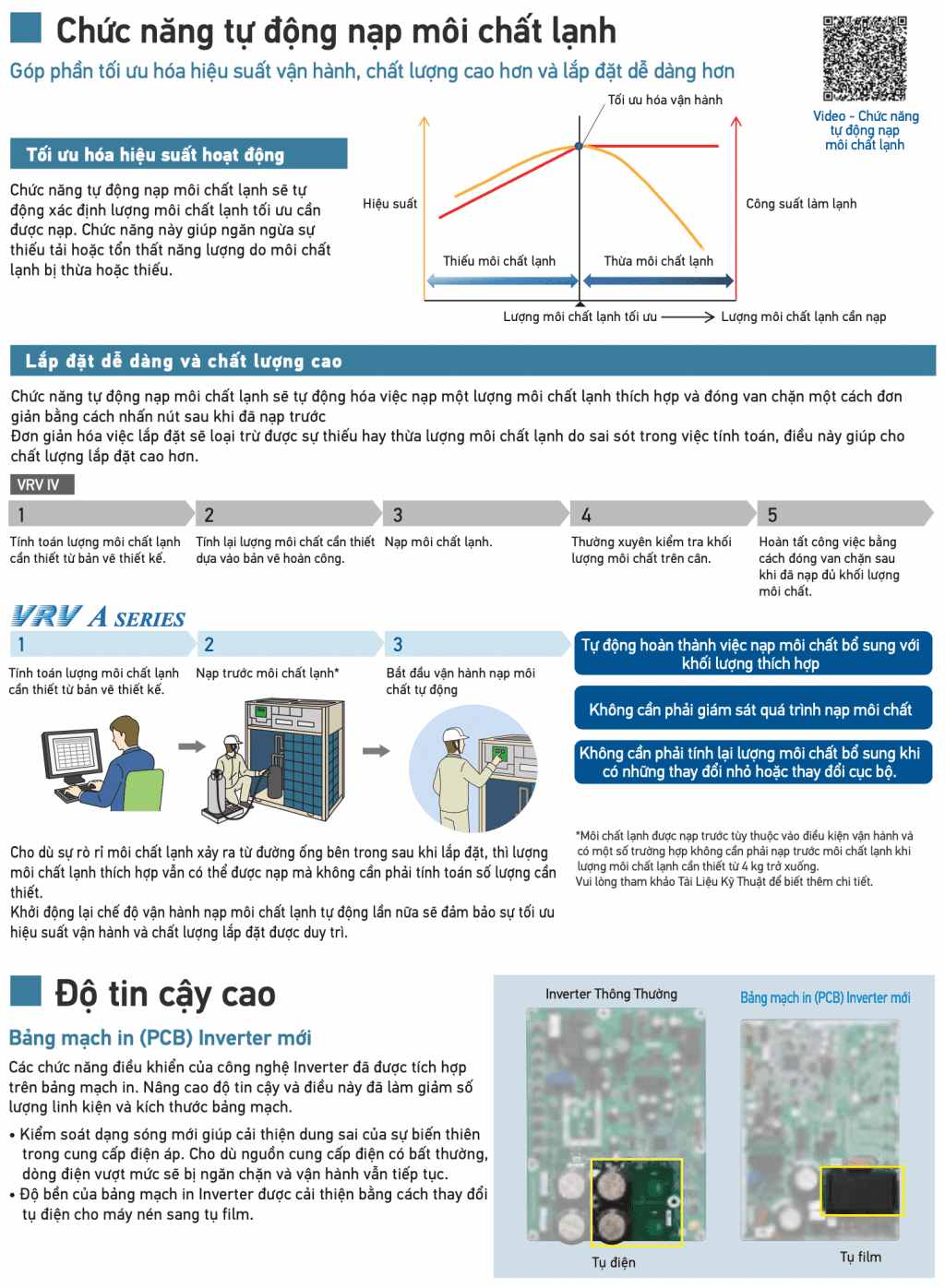 The Daikin VRV A 2020 central air conditioner has outstanding operating efficiency
Central air conditioner Daikin VRV A 2020 has low operating noise.
High air flow, high static pressure and low noise.
Features quiet night operation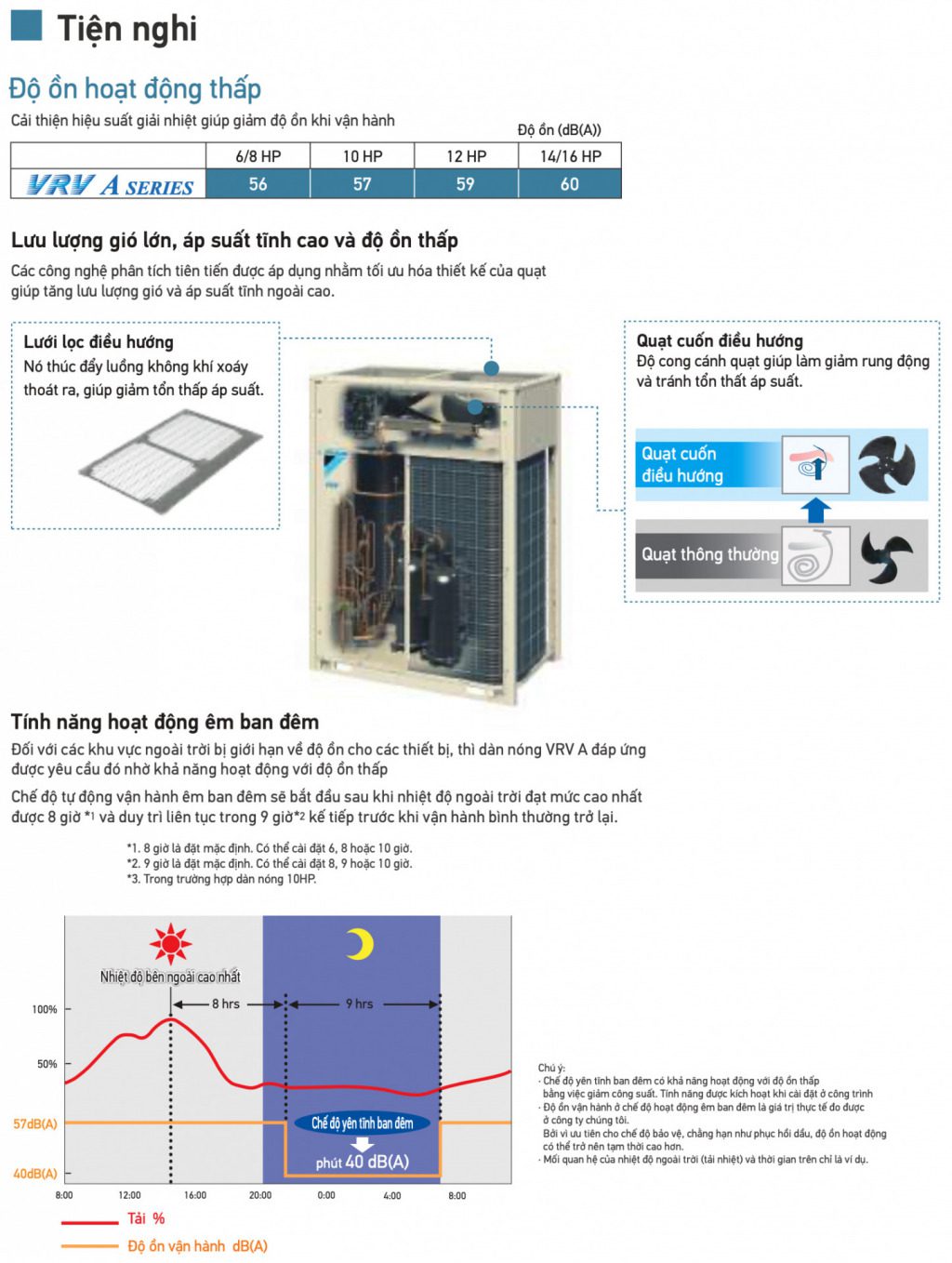 Air-conditioner Daikin VRV A 2020 has a compact design with high performance
Highly integrated heat exchanger
Optimized internal design to ensure airflow stability
Adequate cooling for electrical components
Easy maintenance
Eliminate resistance
High safety when the ambient temperature is high
ODM engine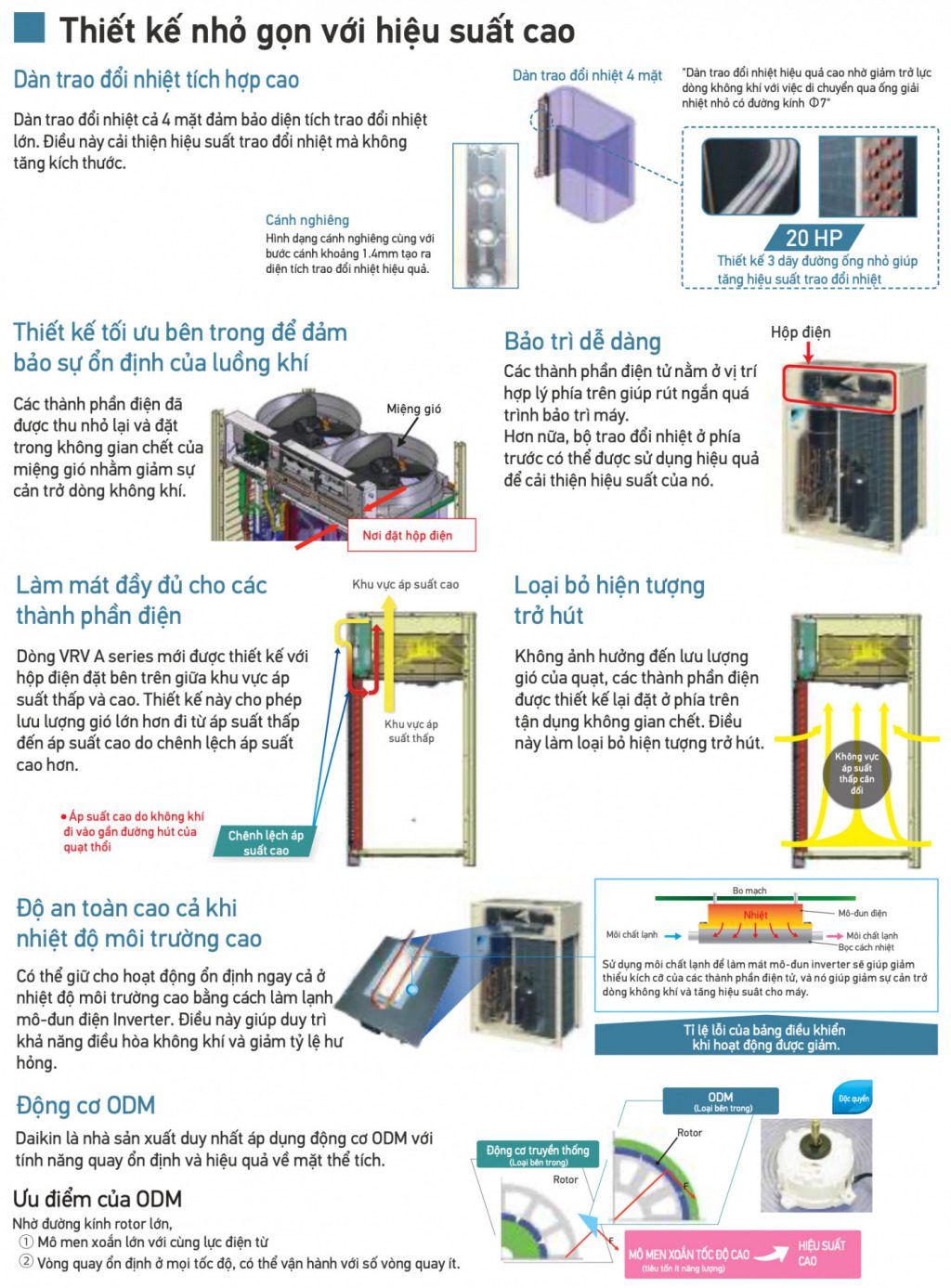 Central air conditioning Daikin VRV A 2020 offers many options for the installation location
The long pipeline length makes the design more flexible, and can be suitable for large buildings.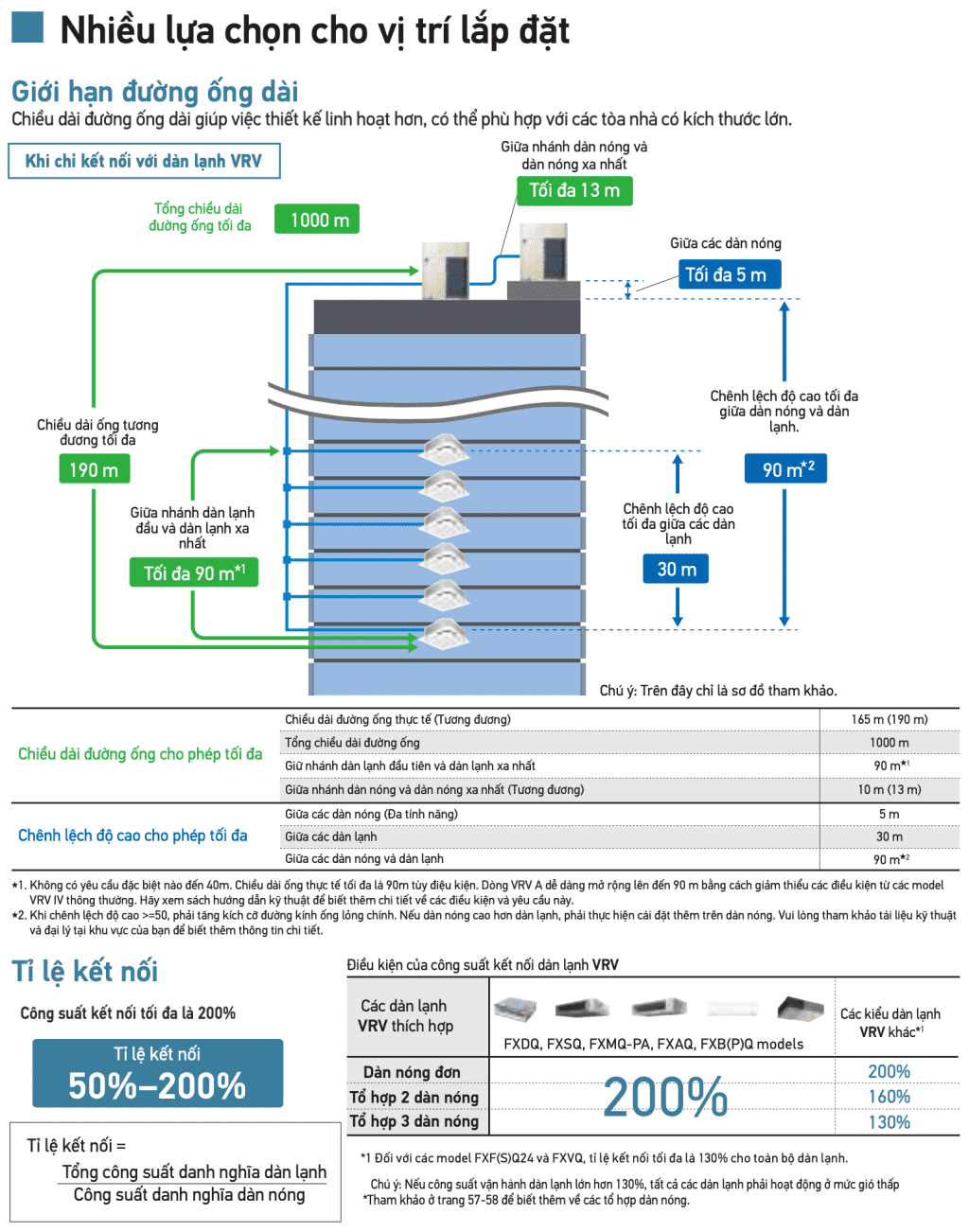 Central air conditioning Daikin VRV A 2020 have stable and reliable system
The test operation system is more accurate and stable thanks to the efficient automatic test operation
The Daikin VRV A series combines an efficient and simple check operation function that not only speeds up the installation process, but also improves the quality of the installation on site.
Automatically check the wiring between the outdoor unit and the indoor unit to see if the wiring is faulty.
Automatically check the status of the stopper in each outdoor unit to ensure the air conditioner operates smoothly.
Determine pipe length to optimize operation.
Simplify operations and after-sales service
Information display by LED screen
The A series VRV system uses 7-segment LEDs to display system operating information, allowing to display operating status, facilitating easy operation and after-sales services. .
Advanced control PC circuit board
SMT technology applied to the entire computer control board improves anti-interference properties.
Protect your computer's control board against the effects of sand and wet weather.
I-demand feature
Power consumption limits are set correctly with 11 levels. Peak power cut-off can be performed on a case-by-case basis.
Wide operating temperature range up to 49 ° C
The wide dynamic range of the VRV A series helps to limit the restrictions on installation location. The operating temperature range for cooling can be realized when the outdoor temperature goes up to 49 ° C.
Automatic alternating operation
When starting up, VRV A series will automatically activate alternate operation mode to ensure the balance of operation time of each outdoor unit to increase equipment's life and stable operation.
Dual preventive operation
The central air conditioning system VRV A is enhanced with dual backup operation, ensuring the maximum use of air-conditioning in this area by emergency activation of the immediate backup operation functions. even if something goes wrong with an air conditioning system.
In the event of a malfunction, the emergency operation mode can be activated easily allowing the remaining system to operate at a certain limit.
Easy maintenance
Daikin Center Air Conditioning VRV A 2020 provides maintenance features that allow the indoor unit to be turned off without turning off the entire VRV system This feature is convenient during maintenance because the remaining indoor units are still operating. .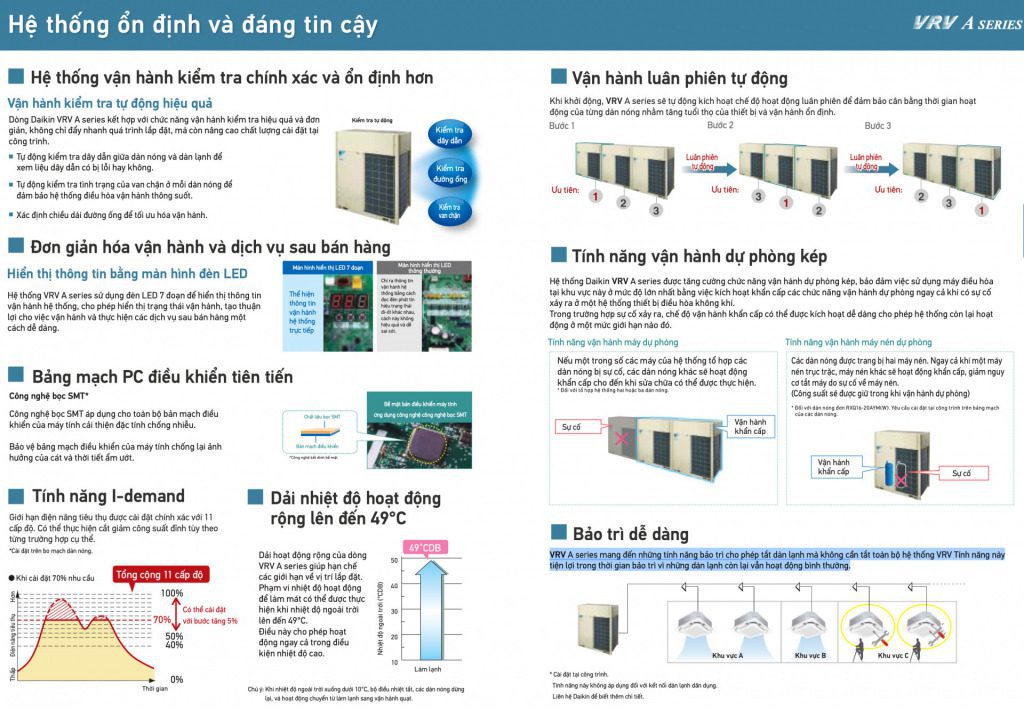 You need advice on construction, installation or purchase of Daikin VRV A 2020 central air conditioner please contact SAVA M&E with the following contact information.
Contact information SAVA M&E Joint Stock Company
Website: https://www.savame.com
Email: [email protected]
Phone: (028) 3512 2727 | Hotline: 0978 829 829 (Mr. Hung) | 0869 173 168 (Ms. Thao Nguyen)
Address: 168/75 D2 Street, Ward 25, Binh Thanh District, Ho Chi Minh City
Best regards,
SAVA M&E