In today's high-tech world, inevitably everything changes and the electricity industry must change with it, if not to become obsolete and be left behind. Engineers are always under pressure, to save money, improve designs, and build more efficient systems. On the one hand, it is a must, but it is important that the electricity industry takes advantage of all the advantages technology offers, even the most advanced technology.
Advanced technology
Many innovative technologies can be considered wild ideas, quirky or even in the cloud. Advanced technology takes many forms. Some are old technology but moving in a new direction, others are cutting edge technologies and a few are still on the drawing board but can be ready to turn things around at any time.
Let's look at some of the renewable energy technology advancements outlined in the recent news. Roof panels are commercially available with photovoltaic (PV) properties, making them small solar panels. Product developers are testing clothing with photoelectric properties, in the field, to power devices that many people carry around the day. Research on the PV spray layer is underway, making any surface rotated in the right direction as a power source.
The above process is working for the development of electricity industry, in which the substation has been the focus of this development for many years. Previously, but not so long ago, metal oxide lightning protection designs were considered odd, extreme and unbelievable. The notion that it was possible to reduce the insulation level by using an internal device containing objects that looked like a ring back then was unbelievable and disturbing, but now no one doubts about the practicality of this type of equipment. Changing to move forward is the driving force for technology to develop, helping the substation operate better.
Size matters
Better insulation allows for more and more world-wide acceptance of compact substation designs, as power companies are facing the challenge of supplying substation capacity. pressure in urban areas in limited ground conditions. By combining advanced technology with materials with better properties, manufacturers are now offering compact devices. The design of the air-insulated substation (AIS) substation is thus improved, more compact than ever.
These innovative AIS designs use a number of technologies such as: optical instrument transformer, pantograph type busbar isolator, and reduce phase spacing through the use of Improved type metal oxide clays reduce insulation levels. The AIS designs also utilize innovative SF6 circuit breakers. ABB's Isolator Circuit Breaker (also function of an isolator) and Siemens Simobreaker use a mixed technology by combining the capabilities of the isolator and the circuit breaker. Siemens Simover circuit breakers - also known as rotary circuit breakers - have current transformers, rotary isolators and circuit breakers, all integrated into one.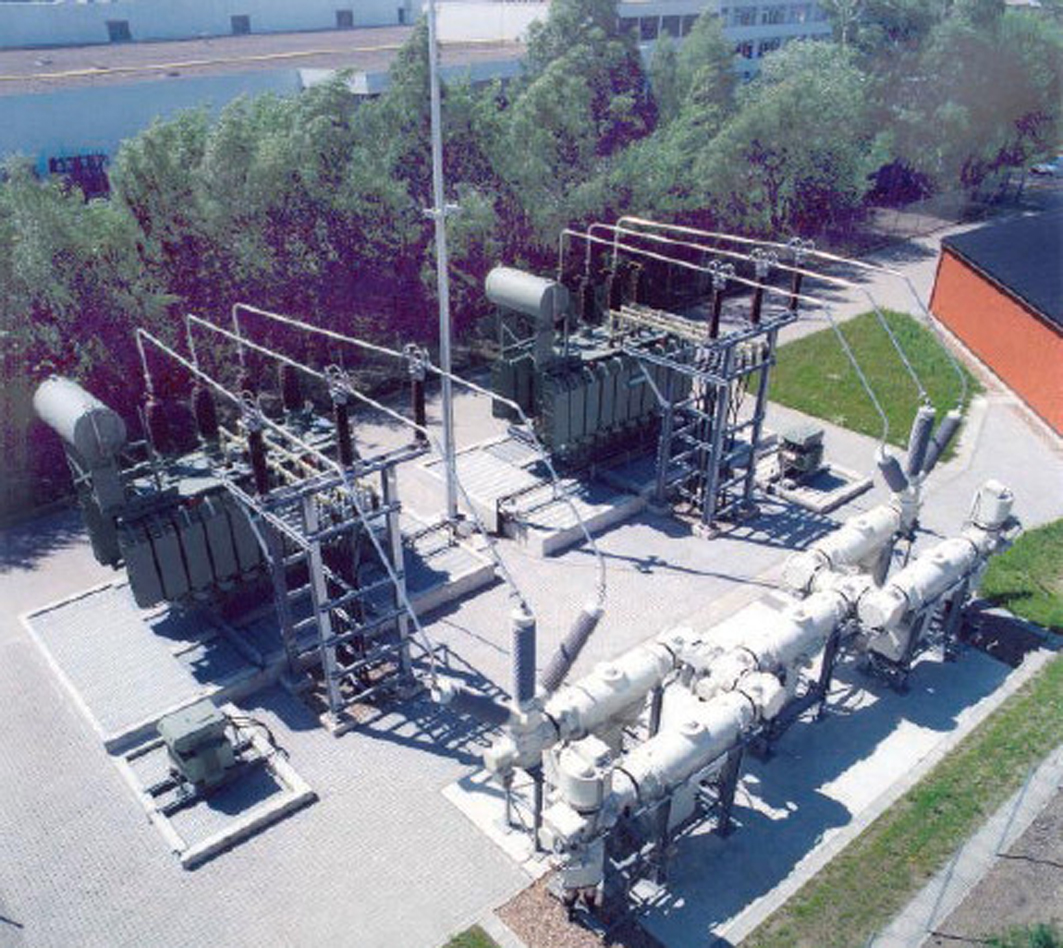 Combining gas insulation (GIS) technology with air insulation technology (AIS) allows a lot of ground space needed for substations to be narrowed.
There are also a number of hybrid substation designs that combine GIS technology (gas insulated substation) with AIS technology, thereby further narrowing the substation occupancy. The designs are a combination of outdoor air-mounted devices and enclosure SF6 gas insulated switches. This mixed station is a more economical alternative to a pure GIS station, applicable to sites that are somewhat narrow compared to the requirements of the AIS but large enough for the substation. pressure combination. Today's substation designers have far more options and tools than ever before.
Superconducting transformer station
Another power with the potential to change the configuration of the substation is high-temperature superconducting (HTS) technology. HTS has been in use for many years, but is limited to pilot projects for testing grid-based applications. These applications include: Superconducting magnetic energy storage (SMES), HTS cable and HTS fault current limiting device, now installed on the electrical systems of many power companies. force.
One of the most recent US Department of Energy pilot projects has been implemented on the Southern California Edison Electric Power Company (SCE) grid. SCE will install a medium voltage transformer HTS at the Irvine substation, California (USA). The HTS transformer is rated 69 / 12.47 kV, 28 MVA and will have built-in fault current limiting capabilities. This is a joint project between the US Department of Energy and industry. The Department of Energy is funding the project. The industry side includes Waukesha Electrical Systems, Oak Ridge National Laboratory and SuperPower Inc.
HTS design concepts have been tested and proven to be reliable, but one of the implementation problems is the cost. Up to now, each installation must have a cryogenic technical assistance system, but what happens if multiple super-low temperature refrigeration systems are merged? There are proposals to build a superconducting substation using all kinds of different HTS equipment but with a single super-low temperature cooling system serving the entire substation.
Researchers think a superconducting substation will be more efficient because it has virtually no loss. HTS substations will be more reliable, require less maintenance, with an enclosure designed. The station also requires less ground space - up to 70 % - and also higher safety. This certainly fits the definition of an innovative idea built with cutting edge technology, but it will take time to convince skeptics.
Transformer station with Internet protocol
It's not just outdoor buildings that fall into the sights of technology. A few years ago, the Seattle City Light electricity company (SCL - Washington state) rebuilt the substation control system with a new approach. SCL replaces centralized supervisory Control and Data Acquisition (SCADA) system based on remote terminal units (RTU) with communication based communication system. Internet protocol (Internet protocol - IP). This new system captures more information and is more flexible than traditional SCADA systems.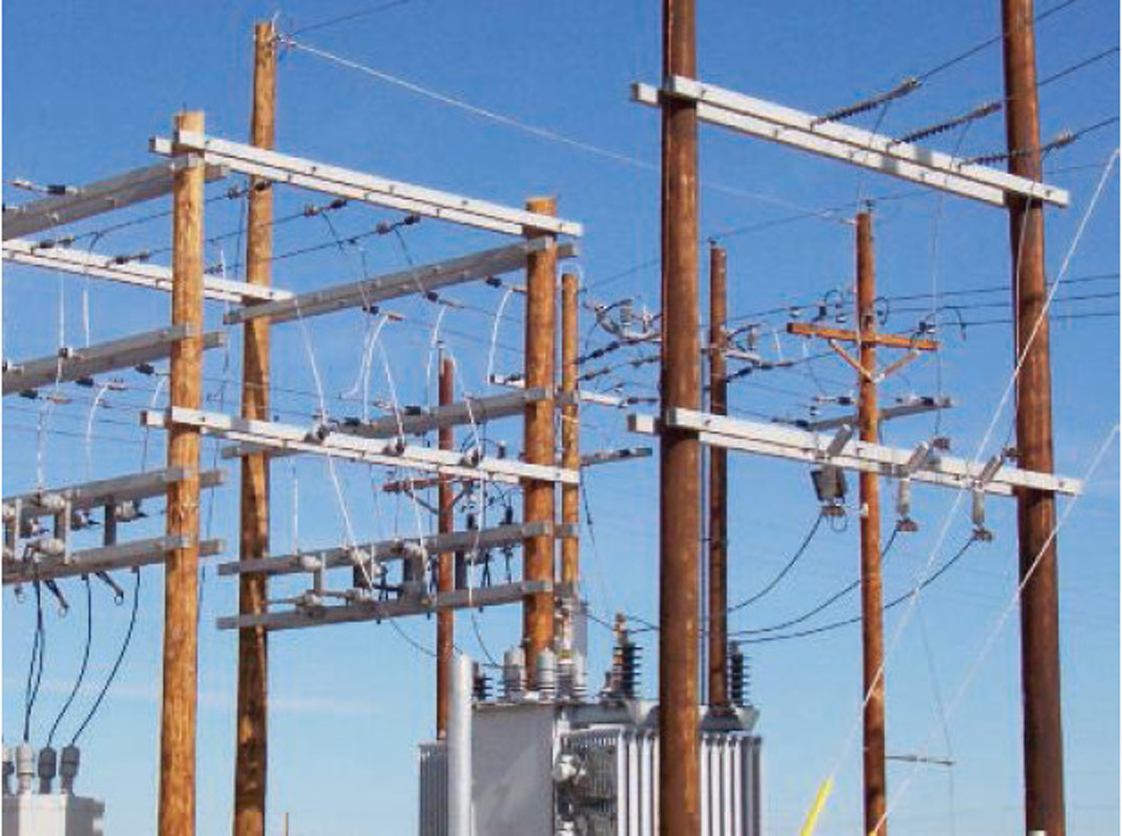 Composite structures are making a difference in substation design
This SCL system uses a substation server computer including a substation PC SEL 3354 from Schweitzer Engineering Laboratories (Washington state) running on application software Substation and Substation Explorer of SUBNET Solutions (Canada). ). The system also uses the GarrettCom company switch (California) to be connected to intelligent electronic devices (IEDs) by communicating with the substation devices. .
Integrated IP-based substation control technology will sustain and grow in the number of applications. Recently, Cisco (California, USA) and Alstom (France) announced the establishment of a collaborative group with the task of integrating this IP network with substation equipment and control systems. Their team combines routers and switches that withstand Cisco's grid overvoltages with Alstom company's electrical equipment such as isolators, protective relays, and capacitors. Electrical and digital control systems ensure the operation of all these devices. Alstom is now integrating Cisco's IPv6-compatible platform into their substation devices to facilitate the transition from serial SCADA communication protocols to true smart grid communication. IP.
With this transition, what happens when the terrestrial Internet connection is lost? Of course this service no longer exists, things could be interrupted, but another 21st century technology is on the way. Internet connection via satellite is independent of terrestrial transmission lines. Satellites allow power companies to cover their entire systems in a single network, which is a huge advantage when it comes to revisions, modifications and upgrades.
Going one step further, the artificial satellite can be used for many other services such as security cameras, voice over IP phone service and fax transmission. All of them can be done at the same time, more efficiently.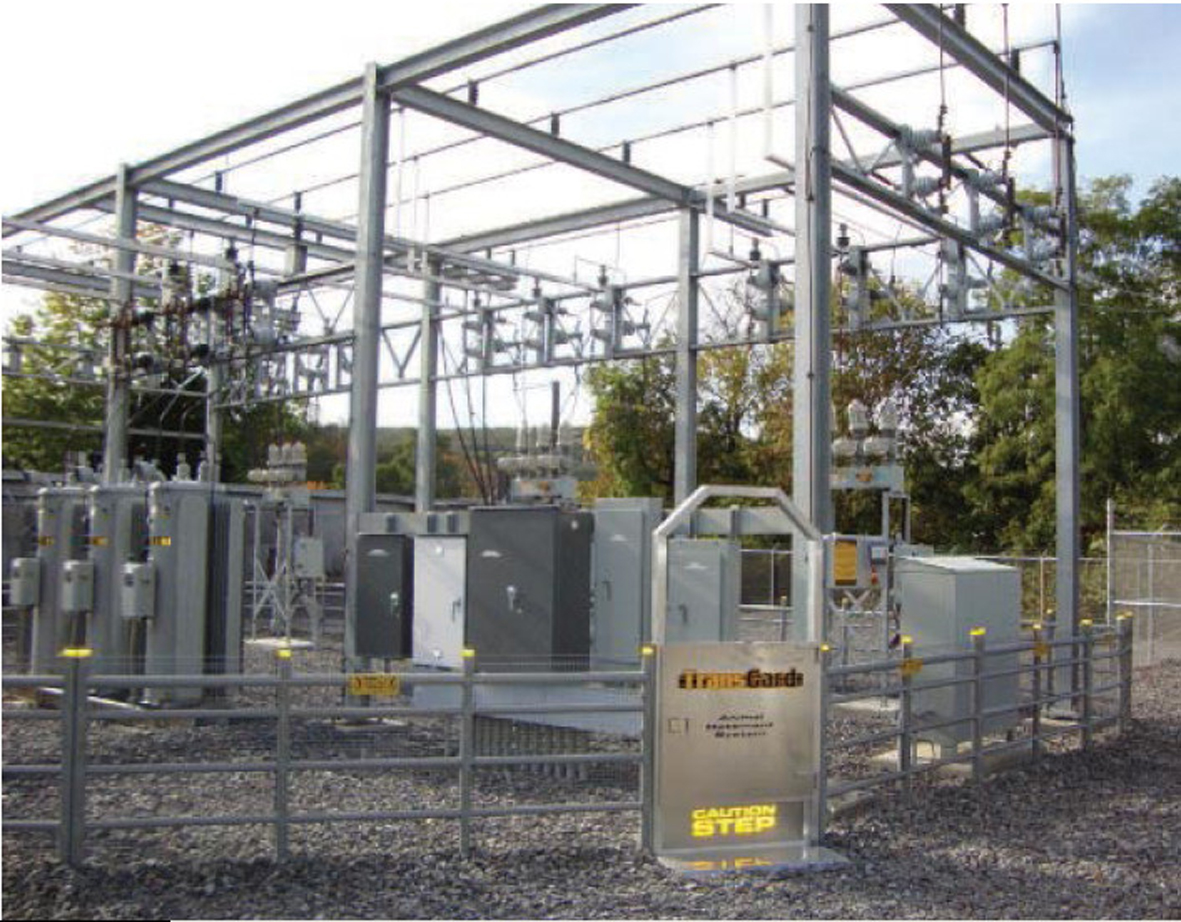 Electrical fences prevent animals from getting close to live equipment
Semiconductor device
Power electronic components have been widely used in the electrical industry for many years. High voltage direct current (HVDC) systems and flexible ac transmission systems (FACTS) are no longer new. Many studies are underway to apply power semiconductor technology to semiconductor circuit breakers and transformers.
Many people believe that the performance of current semiconductor components is too low, not enough to make power cutters and semiconductor transformers, but this is happening. Development of semiconductor type DC circuit breaker is progressing. ABB is working on the design of a hybrid semiconductor circuit breaker that uses semiconductor components with mechanical isolators for HVDC grids being proposed in Europe.
Semiconductor transformers are also being studied around the world. Semiconductor transformers are not dry-type transformers with a magnetic core; it is a voltage converter with no iron, steel or copper as is found in traditional devices of this type. In the opinion of many people involved in the research of semiconductor transformers, this is a digital router (router) for the grid. It sounds pretty far-fetched, but the idea makes sense.
In Japan, the Digital Grid Consortium, a non-profit organization, was formed to develop this semiconductor transformer. This group includes ORIX Corp, NEC Corp. and National Instruments. It is rumored that several Japanese electrical equipment manufacturers are planning to join this group.
According to the group's report, the device will replace designs that use current windings with AC-to-DC (AC-to-DC semiconductor power semiconductor converters). -to-AC). This machine is completely fabricated with current technology, but due to the limited cost, it is only in the research stage, not yet in the pilot project stage, while waiting for breakthroughs in technology to sell. leads to improve the economics of the equipment.
New proposals
Everyone knows that birds, snakes and squirrels cannot read. So no matter how many "Dangerous High Voltage" signs are displayed, these animals keep shorting the busbar and other live equipment, causing power outages. Several high-tech applications are available now on the market to help solve this problem.
Composite columns and structures are finding their way into the substation. Granted, slow, but the truth is. Shakespeare Composite Structures Company (South Carolina, USA) develops busbar supports and insulating knife supports in substations. According to the company Shakespeare Composite Structures, these annoying animals can jump onto fiberglass supports, but are much less likely to short circuit the ground and crash. Fiberglass and composite technology appeared 50 years ago but is still considered advanced, but it is too long for these technologies to reach the substation.
TransGard Company (Pennsylvania, USA) offers an innovative solution to this problem. TransGard has developed a very interesting method to prevent animals from crawling, crawling, and creeping into the station by encircling them with electrical fences made of specialized boards. Panels are installed around equipment that the utility company wants to protect. The Rochester Gas & Electric Company installed the system in all of its substations, resulting in only one animal blackout for many years (see T&D World, columnist). Electric Utility Operations, issue August 2012).
For birds, the problem is a bit more complicated, but there are already many products on the market. Specifically, the company Bird-B-Gone (California, USA) offers to sell chemical misting systems to repel birds and plastic gantries to prevent birds from perching. But there's a great product of technology: It's a system that uses sound technology, which emits cries of danger and birds of prey of over 22 different species at times and in times of time. Time is selected at random. With this variety, birds do not feel the same thing over and over. On the contrary, the sounds disturb them and go where they feel more secure.
Connecting transformer station
The intelligent electronics (IED), microprocessors of all kinds and other high-tech devices have been built to work with the optical, wireless and Ethernet technologies in today's substations. . These devices are capable of cornering data from multiple sensors into digital communications links and using these data at the substation level.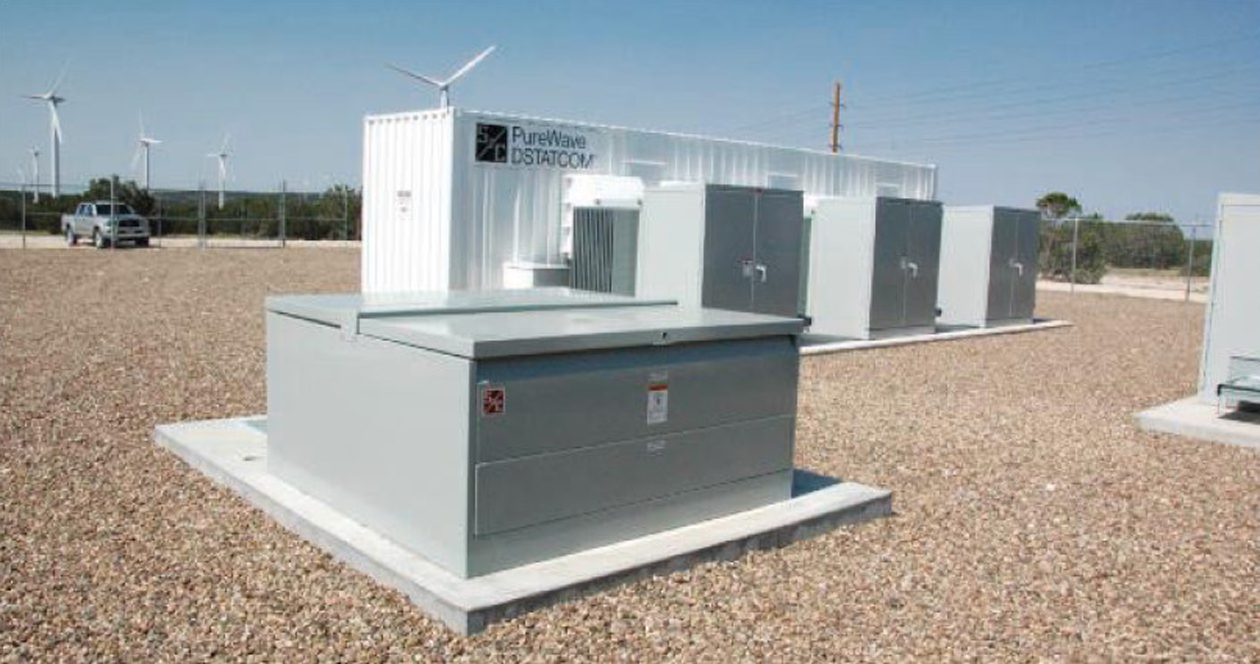 Small FACTS equipment (capacitor compensation) installed in the substation helps to improve the quality of electricity
Many utility companies find it difficult to connect equipment inside and outside the substation just because of the connection methods. Previously, mainly using hardwiring technology, but fiber optic cable is changing traditional conceptions. Fiber optic cable is also a more cost effective method for connecting smart electronics, sensors and monitoring equipment, compared to co-control cable.
Hardening the control circuit takes a lot of labor, requiring a technician to connect each control wire to the system. It takes hundreds of hours to map the connection, install cables, wire devices, test circuits and record modifications on the completion drawings. This approach is suitable for the previous conditions when labor was plentiful, but in today's environment, resources are limited and need to be used wisely.
The Ethernet switch acts as an up link to allow high-speed transmission, increasing the data transfer rates required for linking control, protection and equipment with together. Data paths can be of many different types - such as control and test paths, data monitoring paths and general data transmission - that can be stored or cleaned as needed, due to real systems. show.
Multifunctional protection and control devices using soft logic, combined with fiber-optic cables allow to simplify and speed up the entire process, and require much less labor. In addition, using fiber optic cable has many inherent benefits. The fiber is immune to electromagnetic interference, so it is possible to arrange intelligent electronic devices (IEDs) and sensors at very long distances, combine multiple sensors over a single optical fiber and mount. booking is also easier.
Change together
In today's high-tech world, inevitably everything changes and the electricity industry must change with it, if not to become obsolete and be left behind. Engineers are always under pressure, to save money, improve designs, and build more efficient systems. On the one hand, it is a must, but it is important that the electricity industry takes advantage of all the advantages technology offers, even the most advanced technology.
Technology is continually being shaped, evolving and advancing, leading to an improved device's functionality and quality. Manufacturers are constantly introducing new applications for digital control and communication systems. Transformer stations are now considered modern, but there will come a time when the engineers and technicians of the future will wonder how the electricity industry was able to meet their electricity needs with such outdated devices.
Technological advances are inspiring creative thinking of next-generation substations. In the past, the substation engineer was limited by the lack of tools, but now the situation is different. What limits us more than now is whether we are willing to accept it or not. The electrical industry now has not just a tool bag, but a whole tool cabinet to use at will.